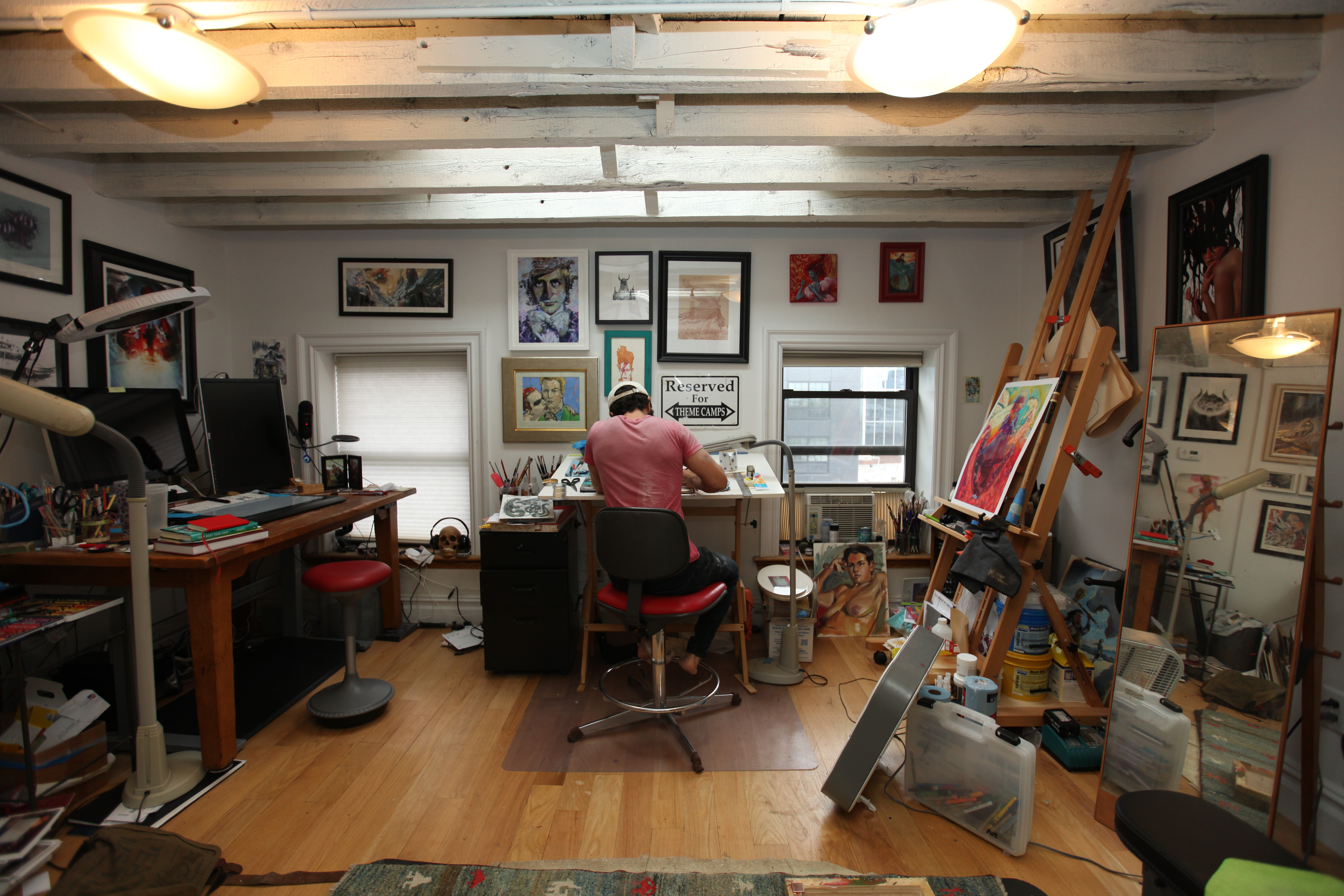 studio shots by Sarah Shalene Photography
Marc Scheff is an award-winning artist based in New York City known for his unique dimensional conceptual portraits in layers of resin.
STATEMENT
In my work (and my life) I seek to reveal unseen layers. Contrary to our subconscious, my layers in resin are fully exposed and vulnerable. I work to reveal the authenticity of what we all hide. Each work is a new set of risks and potential rewards.
I obsess over materials, pushing them to work in unworkable ways.
I live and work in Brooklyn.
CONTACT
marc@marcscheff.com
BIO
b1976, Boston, MA.
I spent my childhood drawing. Drawing was a safe place, and often an escape.
As part of my own personal childhood survival strategy, I developed a sense of empathy. In order to predict and largely avoid the moods of the people at home and school, I had to learn to see under the surface.
I went to Harvard and studied Computer Science because art didn't seem like a viable career option. When I moved to San Francisco, I quickly moved into more creative aspects of tech, and eventually found myself taking at classes at my local art college, Academy of Art University. It's ironic, in a way, because I couldn't see that under my own surface was a deep desire to create, and communicate through creative work.
I did eventually drop out of the corporate world, earned a degree in Illustration from The Academy of Art University, and spent over a decade working in a variety of creative roles in the commercial game/art world. I was a creative director at a t-shirt startup, a staff artist at Electronic Arts, an art director for a video game merchandise company, a freelance illustrator for board and card games, and I launched a number of successful personal projects in partnership with my friends and communities (the kind of crowdfunders where we paid our artists).
In 2016, I discovered ArtResin. I was shopping for a way to finish a drawing I had done for a small group show in California. My local art store had literally one sample size of a 2 part epoxy resin. I brought it home and tested it out on some coasters. I immediately noticed the dimensional nature and wondered if I could work on top of that.
From those first, thin layers, I've now cast hundreds of layers on dozens of panels,
and have had the pleasure of sending these pieces to homes all over.
Two and a half years later, I'm still discovering new ways to work with ArtResin (which is archival and non-yellowing unlike many others). I've won an award for my work, and continue to show happily with Rehs Contemporary in New York, as well as regular participation with Haven Gallery in Long Island, a varies group shows across the country.
What gives me the most pleasure, is this opportunity to explore the layers of human nature, the unseen aspects that people hide but are visible right on the surface, if you're looking closely enough.
BUSINESS INSIDER
ARTRESIN
You can find out more about the resin I use at ArtResin.com.
INTERVIEW: ART SIDE OF LIFE
A conversation about gallery shows at Art Side of Life
INTERVIEW: Erica Berkowitz
Owner and Curator, Haven Gallery
CURRICULUM VITAE
SELECT PRESS/INTERVIEWS
Business Insider (video interview)
Beautiful Bizarre (Revealing the Unseen, Interview) 04/1
SELECT REVIEWS
"I Observe" show at Rehs Contemporary (Poets and Artists/David Molesky)8
Hi-Fructose (Depth Charge review) 05/18
Juxtapoz (Materialization, review) 08/16
EXHIBITIONS
2019
Scope Miami (2 person show)
Superfine Art Fair (NYC)
Corey Helford Hello Kitty 45th Anniversary Show
Corey Helford 13th Anniversary Show
Superfine Art Fair (LA)
2018
Depth Charge, solo show at Haven Gallery
Frankenstein 200th Anniversary, group invitational at Corey Helford Gallery
Main Show, juried show at Illuxcon Art Conference
2017
Rehs Contemporary (ARC Select, 6 person show)
Haven Gallery (Into the Woods, group invitational)
Haven Gallery (Ornamented, group invitational)
Mazza Museum (Villains, group invitational)
Gallery 1988, multiple group invitationals
2016
Haven Gallery ("Materialization," Solo Show)
The Canton Museum of Art ("The Art of Imaginative Realism," small group invitational)
The Drawing Room ("Soak it Up," small group invitational)
Gallery 1988 ("Reruns," group show)
Krab Jab Gallery ("Dream Cover," small group invitational)
Lost Art Gallery ("I. M.ust C.reate," small group invitational)
2015
Cotton Candy Machine Biannual (submissional, NYC)
Parallax Art Fair (invitational, NYC)
Iluxcon (Main Show, Allentown Art Museum)
Haven Gallery (Oct 10, "Into the Woods" group show)
Haven Gallery (August gallery opening)
Krab Jab (Faerie, group show)
2014
Muses of Mount Helikon II (group show)
Helikon Gallery, Denver CO
Temple of Art (group show)
La Luz De Jesus Gallery, Los Angeles CA
Abstract Narrative (group show, artist/curator)
Enve Gallery, NY NY
Illuxcon (juried group show)
Allentown Art Museum, Allentown PA
2013
Muses of Mount Helikon (group show)
Helikon Gallery, Denver CO
JURIED ANNUALS / PUBLICATIONS
Spectrum 18, 19, 20, 21 (juried)
Infected by Art, Vol 2 (juried)
ImagineFX
Adobe Photoshop Magazine (feature)
Corel Painter Magazine (feature)
AWARDS
Creative Quarterly 57 Fine Art Professional (2019)
Creative Quarterly Fine Art Professional (2017)
ARC Salon Rehs Gallery Award (2016)
EDUCATION
BFA, Illustration, Academy of Art University, 2005
BS, Computer Science, Harvard University 1999